Wood chips
Wood chips is one of our wood fiber products we offer. We deliver wood chips in quantities of 45 and 90 m3. If you, however, want to buy a smaller quantity, it is possible to pick up the chips yourself at our place in Barneveld. 
Wood chips is a product made out of the remnants of wood. These remnants come from the tribe of a tree. This trunk wood is chipped till wood chips with a machine. We offer you the choice for wood chips with and without bark.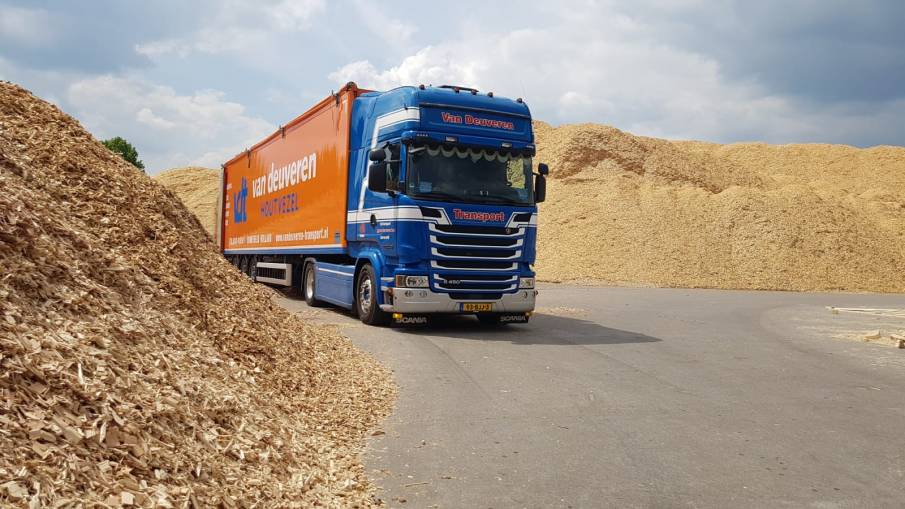 Wood chips can be used for different purposes:
In de chipboard industry:
The wood chips are used as a raw material in the chipboard industry. The chips are blended with a synthetic resin glue and compressed to chipboards through heat. 
In the paper industry:
Besides the use of wood chips as a raw material in the timber industry, the chips are also used as a raw material in the paper industry. The fibers of the wood chips are used to make paper. 
To use as a fuel:
Wood chips are and excellent basis material to use as a fuel for the generation of energy. Biomass plants burn wood chips to deliver energy. This energy can be used for example for the heating of (animal)stables, for the heating of swimming pools or recreational areas, or for wood central heating boilers. 
For gardeners or for your own garden:
Wood chips is a perfect ground cover for gardens and are suited well to make a garden maintenance free in a cheap way. The chips are also used for hiking trails, animal pastures, or as a ground cover for playground equipment in playgrounds or in a private garden. Wood chips will give a garden a natural appearance and make a garden look good and taken care of. Besides the well-kept appearance the wood chips give to a garden, it will also protect the ground. In the winter, the chips will ensure the ground will not freeze and in the summer, the ground will stay moist and will not dry. Additionally, weed will be banned by wood chips. 
In short, wood chips is a versatile product with lots of advantages. Do you want to buy our wood chips or are you curious about our prizes? Contact us via the quote form.