For every assignment an appropriate transport solution!
Van Deuveren Transport transports several goods to every destination you desire. We are located in Barneveld, and from this central location we transport goods to different national and international locations. Next to our transport within the Netherlands, transport assignments from and to Germany, Belgium, France and Denmark are executed in particular on a daily basis. However, it is also possible to transport your goods to other destinations in Europe. Besides that, our trucks meet the highest environmental and quality requirements. We are certified at NIWO and feature a TÜV-certificated trailers and a GMP-certificate for transporting animal feed. 
We are specialized in length distribution with the possibility for the use of a truck mounted forklift. By the use of a truck mounted forklift, goods of great sizes can be loaded and unloaded easily. Because we facilitate truck mounted forklift transport, we are doing the work for you. We have 60 curtainsider trailers with a length of 13,6 meters. they can be loaded from the topside (crane load), from the side and the backside of the trailer. Next to that, our trailers can be put at our customers for loading and these trailers can be exchanged with an empty trailer so that the customer can load when it fits him the best. This makes it possible for the customer to suit his assignment to his own wishes and waiting times for loading and unloading will be avoided.
For every shipment, we offer you the right way of transportation, whether this is a minimum shipment or a full truck. The goods we normally transport are construction materials, machines, chemicals, metals, paper (rolls, pallets or bales), cocoa beans, animal feed, provisions, packing material and dwelling or industrial doors. However, we are open to the transportation of all desired goods with a maximum height of 2,8 meters. 
Because of our diversity and flexibility we hope we can offer you a fitting transport solution!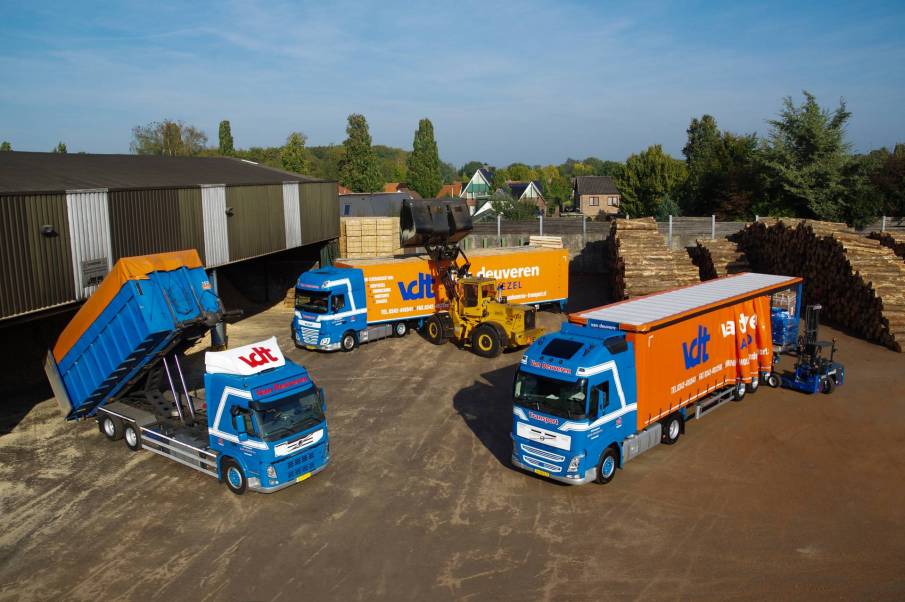 An overview of our services